Bringing back healthcare ' A telemedicine platform with flow
Bringing back the flow in healthcare
Healthcare today is not functioning – nor do it's professionals when healthcare is provided as it currently is. Healthcare staff spends too much time on administration, time that should be directed to patients. The staff do not get the information they need, and digital tools become a stumbling block instead of an asset. There is simply no flow in today's healthcare. This hinders the people working in healthcare from doing what they want the most: to help people. It's time to change that. It's time to bring back the flow into healthcare. Curoflow is a complete solution for digital healthcare and telemedicine, setting the standard in terms of user-friendliness, compability and patient safety.
A telemedicine platform with flow
Create your own digital healthcare clinic with the Curoflow platform and meet your patients online. We know digital healthcare, technology and data security while you know your business and patients best. Together, we enable patient-centred care through enhanced accessibility, efficient patient meetings, user-friendly interfaces and automated processes.
For healthcare providers .You treat patients in a dynamic web interface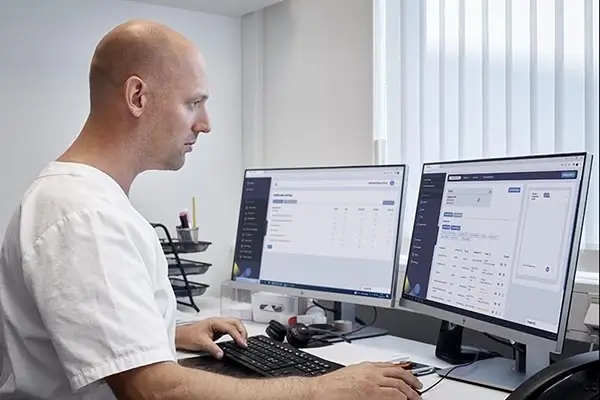 Free up time and improve your work environment
Curoflow's self-service for patients, asynchronous digital communication and automated processes free up a lot of time that can be used to provide quality care. With shortened care queues and fewer people in your facilities, stress on your healthcare staff is reduced. Curoflow also provides the ability to work from home, share staff resources, and receive patients from a wider geographical area.
For patients
The patients meet you via your website or mobile application
Easily accessible care for your patients
Curoflow allows patients to interact with your healthcare clinic anytime, anywhere, without having to queue on the phone or in a waiting room. Curoflow enables private care meetings on busy weekdays, that patients quickly receive help with simple matters, and reduce waiting time for treatment, as physical capacity is freed up by the digital aids. With Curoflow, patients can easily create, follow and manage care cases on their mobile phones.
Together we create more flow in healthcare
Are you wondering what our digital healthcare platform looks like and how it would work in your daily operations? Are you ready to switch to a software provider with a background in healthcare and who understands your needs? We are happy to discuss your business and how Curoflow's different functions could make it more efficient. You could be treating patients digitally within a few weeks.
Send us a message and we'll be in touch!
No Flow
There are a lot of factors that do not function as they should within healthcare today. This has consequences for both patients as well as the healthcare staff. One of the problems is that the IT systems and platforms that are supposed to facilitate, improve and make care safer, has the complete opposite effect. A survey from McKinsey clearly shows that many digital tools increase the workload on healthcare and healthcare staff, with slow and unsafe systems, that are not user-friendly, with complicated and time-consuming procedures and poor patient security.
The IT systems of today are:
Not user-friendly
An unnecessary amount of clicks are required in order to perform simple tasks such as writing prescriptions or taking notes. The systems do not provide a good overview and are difficult to navigate.
Not automated
Healthcare staff must often fill in the required data themselves and spend too much time on administration. Automated processes are almost completely absent.
Slow and no universal login exists
A lot of time is spent logging into different systems and logging back into the system you were already in. There's lots of waiting time between clicks and searches.
Malfunctioning and sometimes do not work at all
In addition, there is sometimes a lack of knowledgeable support staff who can quickly resolve the problems.
Go Flow
Good care is all about flow. How easy it is to work together. Having the proper time for patients. Use of expertise. Based on the passion to help people. But today, healthcare is broken. If we don't have flow, we can't care for, treat or cure people, and in the end save lives. It's time for a change. It's time to bring flow back to healthcare again.
We want to be leading when it comes to:
Usability
We want to be the Apple of healthcare: there is no reason for an IT system to be more complicated to use than an iPhone. We make sure Curoflow is the most user-friendly platform within the healthcare system. You should only need but a few clicks – it must be easy to navigate and find what you are looking for.
Compatiblity
Our platform is able to communicate with other systems and will never constitute an obstacle in the transfer of information between different platforms.
Swiftness
We value swiftness when we develop our solutions. You shouldn't have to sit by your computer and wait for something to pop up.
Secure logins
Our ambition is that there should be as few logins per day as possible. A lot of care time is currently spent trying to log in to systems or get back in after being thrown out of them. Logins should be safe from a security perspective but also in terms of stability for users.
Automation
Our ambition is that everything that can be automated should be automated – no healthcare professional should have to retrieve the same information or data over and over, or have to do more manual work than is absolutely necessary.
Support
Our ambition is for our platform to be hassle-free. We have a support team that is always available to help solve problems, should there be any.
Patient safety
Curoflow adheres to the highest privacy standards and does not take advantage of any possible exemptions from GDPR or other legislation. The availability of patient information and the opportunity for dialogue that digital care enables must never be at the expense of patient privacy. Today, much patient data is stored in foreign cloud services despite the fact that this is not compliant with Swedish legislation, nor the GDPR. You can trust that we provide the security required – for real.
Adaptability
We always create flows based on the needs of your business. We don't force healthcare providers into using pre-defined flows. The Curoflow platform makes it possible to start from the needs of the business – whether it's patient flows or internal flows
One telemedicine platform – many functions
Curoflow is under constant development to simplify the workday for healthcare professionals and provide your patients with better care. See some of our solutions that can contribute to a better flow in your care.
GDPR-compliant video meetings
Does your organisation need a video service in which you can discuss sensitive personal data? Curoflow Video is developed to enable GDPR-compliant, easy and well-functioning meetings with up to 100 participants. Participants can authenticate their identity and all the data is stored, encrypted and handled in Sweden – entirely without American subsuppliers.
©Copyright 2023.All Rights Reserved.

Disclaimer : This advertisement and the information related to it are provided and maintained by the advertiser. Atipes.com is not responsible and can not guarantee the accuracy or completeness of this advertisement. Please note that every advertisement for rent or for sale should at a minimum, display the energy performance rating of the property. See our Flats and Housing Posting Rules for more information.
Avoid scams: Signs of fraud: wire transfer, money orders, cashier checks, payment via gift cards, shipping, escrow, "transaction protection", "guarantee". Be safe by dealing locally.