Expert Strategies For Results And Peace Of Mind In Your High Conflict Family Court Case
Going through a divorce or child custody battle with a toxic and narcissistic ex or parent can be a destructive experience. They fight dirty and they care about one thing – themselves.
Your toxic and narcissistic ex or parent will do anything in their power to bury you and ruin your name and reputation.
They use various predictable tactics to accomplish this goal of destruction. Specifically, they will:
Smear your name to anyone who will listen including your closest friends and family;

Gaslight you to drive you crazy and make you become someone you're not;

Lie to your children about you in an effort to destroy your relationship with them;

Threaten you with physical harm;

Make false allegation about you when in fact they're doing exactly what they're accusing you of doing (Their allegations are usually admissions.);

Use the legal process as a way to abuse and destroy you financially;

Switch to playing the role of the victim when the threats and aggression stop working; and

Much more.
When playing the victim, your toxic, narcissistic ex or parent will say things like "How could you do this to me?," "How could you do this to the children?"
When making threats they'll use phrases like "You're going to pay for this," "You deserve what's coming," "I met with my lawyer and we're going to bury you in court."
If you're stuck in a dreadful situation like this, you came to the right place.
It's time to finally put a stop to the suffering and get the relief you deserve.
It's Time To Fight Back And Take Complete Control Of Your Family Court Case And Your Life…
Judge Anthony Bompiani is a retired judge and family law attorney turned consultant for high conflict divorce and child custody battles.
He has been a family court attorney for over 20 years practicing in the area of child custody, divorce, child support and spousal support.
He also served on the bench as judge for 5 years.
In 2018, Judge Anthony went through his own divorce with three children and quickly realized how devastating the process is for people going through it.
In 2020, Judge Anthony retired from his position as judge to focus on helping people around the world who are being suffocated in high conflict divorce and child custody battles.
He has created multiple online programs for people who are going through the debilitating process of family court and desperately looking for answers. This includes a free masterclass that teaches people how to beat a narcissist in child custody court.
Judge Anthony also consults privately with individuals who are involved in high conflict divorce and child custody cases and need extra help getting the results they deserve.
Judge Anthony's programs and services have been used successfully by people around the globe, and his work has been featured in Forbes, Success Magazine, Men's Journal, OK! Magazine, The U.S. Sun, LA Weekly, DivorceMag.com and more.
"Information needed to pursue a custody battle is not something to be taken lightly, and Bompiani understands that."
"Divorces are known to be messy but legal expert Anthony Bompiani provided top tips to get the best outcome during this often painful, and expensive, process."
"In his bid to offer as much help as he can, Judge Anthony recently teamed up…to develop Court Clerk."
"Best of all, Bompiani's process is meant for people from all around the world. He explains that, at their core, child custody cases are universal, regardless of the law."
"Not many people understand why Anthony Bompiani gave up his job on the bench to consult people around the world on how to navigate divorce and child custody cases. But for Bompiani, after his own divorce, the path forward was clear."
When you are fighting a narcissist in a child custody case, it feels like you're being suffocated everyday.
They'll smear your name and reputation.
They'll charm your friends, family and the court.
And if you don't have the right strategies in place…
They'll win.
But, Judge Anthony will teach you how to flip the script in your case to get the results and peace of mind that you and your family deserve.
Judge Anthony's new free masterclass, "HOW TO BEAT A NARCISSIST IN CUSTODY COURT SO YOU CAN FINALLY GET SOME PEACE," is getting amazing reviews from past attendees from all around the world!
In this free training, Anthony uncovers the following three secrets:
Secret 1: How To Set Boundaries That Will Protect Your Sanity In A Custody Case With A Narcissist!! (It's more important than you think!)

Secret 2: How To Communicate Effectively With A Narcissist In A Custody Case! (There's definitely a specific way to do it!)

Secret 3: How To Bring Up Narcissism In Custody Court Without Looking Like An Idiot! (Doing this wrong can ruin your case!)
There is a session starting later today and it will only take about an hour of your time.
Registration is completely FREE, but seating is limited to 100.
Save your seat now by clicking the button below.
A High-Conflict Divorce And Child Custody Battle With A Narcissist Feels Impossible. But It's Not.
Take A Look At Some Of The Testimonials From Past Students And Clients…
"Couldn't have done it without your help. So thankful for your guidance."
"I used everything Anthony taught me and I got everything I wanted."
"This could monumentally change my husband and that child, and there are no words to express how much that means to us."
"I honestly hope you get how wonderful you are to so many people dealing with family court."
"I feel like the impossible was achieved. I could not have a better outcome."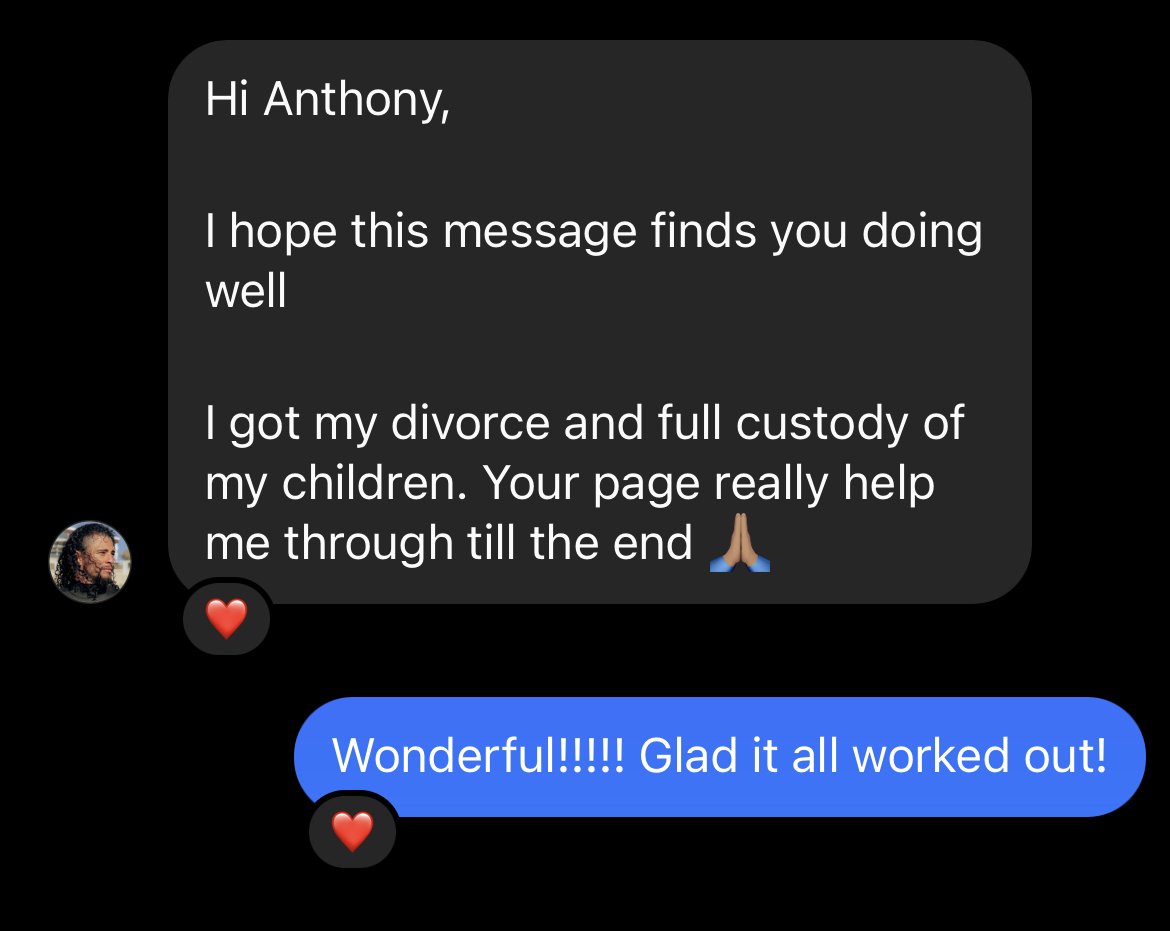 "I got my divorce and full custody of my children."
"All because of the man above and you we won full custody!"
"I think it's worth every penny. The information in the course if worth it alone."
Item 1 of 8
Judge Anthony's Online Programs Have Helped Thousands Get Favorable Results All Around The World…
Custody Case Mastery (Most Popular Program)
Develop the skills needed to beat the narcissist.

Prove your case in court once and for all.

Negotiate with winning communication tactics.

Have the confidence and power to call the shots.

Testify persuasively when you take the stand.
Prepare Like A Custody Lawyer (Included in Custody Case Mastery)
Learn how to document evidence in your case the right way.

Evaluate your evidence so you know what is most important.

Organize your evidence for your hearing or trial.

Finally be prepared for any hurdles you will have in presenting your evidence.

Save money on legal fees by eliminating questions you need to ask your lawyer.
©Copyright 2023.All Rights Reserved.

Disclaimer : This advertisement and the information related to it are provided and maintained by the advertiser. Atipes.com is not responsible and can not guarantee the accuracy or completeness of this advertisement. Please note that every advertisement for rent or for sale should at a minimum, display the energy performance rating of the property. See our Flats and Housing Posting Rules for more information.
Avoid scams: Signs of fraud: wire transfer, money orders, cashier checks, payment via gift cards, shipping, escrow, "transaction protection", "guarantee". Be safe by dealing locally.