Ostomy and Continence Nursing Certification Board | wocncb.org
WOCNCB®
Founded in 1978, the Wound, Ostomy and Continence Nursing Certification Board (WOCNCB) is a not-for-profit professional, international nursing organization certifying more than 9,000 registered nurses who are specialists in the field of wound, ostomy, continence and foot care. WOCNCB has Board Certified nurses in Canada, South Korea, Japan, Malaysia, the United Kingdom, United Arab Emirates, Saudi Arabia and Zimbabwe.
Our Vision
Wound, Ostomy, Continence and Foot Care Nurses at all practice levels are WOCNCB® certified.
Our Mission
WOCNCB® sets the standard for wound, ostomy, continence and foot care nursing certification by validating nurses' knowledge to provide safe, patient-centered care.
Purpose
The purpose of WOCNCB shall be:
to set, maintain, and evaluate national standards for certification and re-certification in wound, ostomy, continence and foot care nursing,
to promote the certification program for wound, ostomy, continence and foot care nursing practice,
to encourage continued professional growth in specialized nursing practice,
to provide formal recognition of individuals who meet the certification requirements, and
to provide identification of nurses who have achieved certification in wound, ostomy, continence and foot care nursing to employing agencies, the public and other healthcare professionals.
Philosophy
The WOCNCB endorses the concept of voluntary, periodic certification. WOCNCB certification focuses specifically on the individual and is an indication of current knowledge in a specialized area of nursing practice. Certification provides formal recognition of wound, ostomy or continence (WOC) and foot care nursing knowledge.
The objectives of the WOCNCB certification program are to promote excellence in wound, ostomy, continence and foot care nursing by:
recognizing formally those individuals who meet all the requirements of the WOCNCB
encouraging continued professional growth in the practice of wound, ostomy, continence and foot care nursing
establishing and measuring the level of knowledge required for certification in wound, ostomy, continence and foot care nursing.
providing a standard of knowledge required for certification, thereby assisting the employer, public and members of health professions in the assessment of the Wound, Ostomy, Continence and Foot Care Nurse.
Maintenance of Professional Licensure
As part of any code of nursing professional practice, it is expected that there will be no lapse of professional licensure during the five-year certification period. Any appearance of licensure revocation, including those due to any misdemeanor or felony charges, will immediately be reported to the WOCNCB resulting in the revocation of certification. Reapplication for certification will be considered on an individual basis following reinstatement of RN licensure by the appropriate State Board of Nursing. Proof of a current RN license must accompany all applications.
Reporting Responsibilities
To protect the validity of WOCNCB credentials, the WOCNCB depends upon WOCNCB certificants, WOCN® Society members and the public to report incidents that may require action by the Credential Review and Appeals Committee. Click here to submit a formal complaint.
For a complete copy of the WOCNCB's Credential Review and Appeals process, contact our office at info@wocncb.org.
Statement of Nondiscrimination Policy
The WOCNCB does not discriminate among certificants on any basis that would violate any applicable laws.
WOCNCB Certification
For more than 40 years, over 9,000 dedicated nurses have chosen to certify in wound, ostomy, continence and foot care nursing through the WOCNCB. Certification provides validation of specialized knowledge, skills and expertise of an experienced nurse. The WOCNCB adheres to strict standards of quality and is a nationally certified organization. The WOCNCB's certifications meet the accreditation standards of the National Commission for Certifying Agencies (NCCA) and the Accreditation Board for Specialty Nursing Certification (ABSNC). The WOCNCB certification protects the public from unsafe and incompetent providers, provides consumers more options when choosing health care providers, and distinguishes the healthcare facility and administrators by providing expertise in wound, ostomy, continence and foot care.
The following checklist meets the certification criteria for the WOCNCB. Take a moment to evaluate the value of your certification by answering the following questions:
Is the credentialing organization accredited by an independent, national certifying body?
Was a job analysis or role delineation study performed?
Is the examination created by an individual or a committee of content experts?
Does the certifying organization's mission agree with the mission of your work environment?
Does the certifying organization provide self-assessment (or practice) to measure your professional knowledge and prepare you for the actual credentialing exam? [It must not teach the answers to the test]
Does the certifying organization require that the coursework be completed by an outside, accredited program focusing on wound, ostomy and/or continence?
WOCNCB Recertification
Recertification is required every 5 years. All recertification efforts must be completed and approved prior to current credential expiration date. Only current certificants are eligible for recertification. You must be currently licensed as a Registered Nurse. A copy of your current license must be submitted with your information.
WOCNCB defines the Continuing Competence required for recertification as continual learning and professional growth using current evidence-based practices in the area of wound, ostomy, continence, or foot patient care as a means to ensure effective job performance and patient safety.
Recertification of valid (non-lapsed) WOCNCB credentials can be completed 2 ways:
Ask the Board
This is a place for you to ask questions regarding the certification process or interact directly with the Certification Board. Your questions and comments will be answered by the Certification Board, and remain on the Bulletin Board for a period of 30 days.
Before you post your question:
To post your question:
Click here: post your question
Return to this area of the website to view the answer by the following day
Disclaimer:
The Board's answers to PGP questions posted in this section are as accurate as possible without having the questioner's completed portfolio at hand. Questions may at times lack full and comprehensive information about a specific activity, or a question or answer may be misinterpreted by the reader. As a result, the WOCNCB® cannot guarantee that it will accept points based on the answer to a question from the Board. Points can only be fully verified and justified when the completed PGP portfolio is evaluated by a PGP reviewer.
How to Get Involved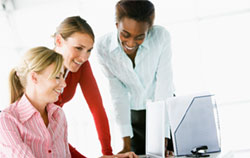 Board and Committee participation is not only a great way to contribute to the WOC specialty, but will also enhance your personal and professional growth.
We know you are busy. That is why service opportunities with the WOCNCB are available at different levels with a variety of time commitments.
Board Service
Members of the Board of Directors serve four-year terms and conduct business by conference call and e-mail, with one or two face-to-face meetings per year. Detailed information is available on the Board Service page.
---
Committees
Committee members serve for a minimum of two years, with some committees requiring four years of service. Business is conducted by conference call and e-mail. With seven different standing committees of four or more members each, there are many opportunities to serve the WOCNCB. A description of each standing committee and a volunteer form can be found on the Committees page.
---
Item Writing
Less time to commit? Consider writing an "item," which is a test question for a WOCNCB examination. We encourage you to draw on your current clinical experience to write items. Anyone can submit items, and no items will be refused. Every item is reviewed and edited as necessary by the Examination Committees, and all submissions become the property of the WOCNCB.
You can submit your items to the WOCNCB National Office using this Item Writing Form. For a hard copy form, call the National Office at (888) 496-2622. Please follow these item writing guidelines.
Contact Us
WOCNCB Office
555 East Wells Street
Suite 1100
Milwaukee, WI 53202-3823
Phone: (888) 496-2622
E-mail: info@wocncb.org
Fax: (414) 276-2146
©Copyright 2023.All Rights Reserved.

Disclaimer : This advertisement and the information related to it are provided and maintained by the advertiser. Atipes.com is not responsible and can not guarantee the accuracy or completeness of this advertisement. Please note that every advertisement for rent or for sale should at a minimum, display the energy performance rating of the property. See our Flats and Housing Posting Rules for more information.
Avoid scams: Signs of fraud: wire transfer, money orders, cashier checks, payment via gift cards, shipping, escrow, "transaction protection", "guarantee". Be safe by dealing locally.